Hundreds of millions of yen for a few tens of seconds of commercials! ? This is the CM that should be noted in the CM of the Super Bowl!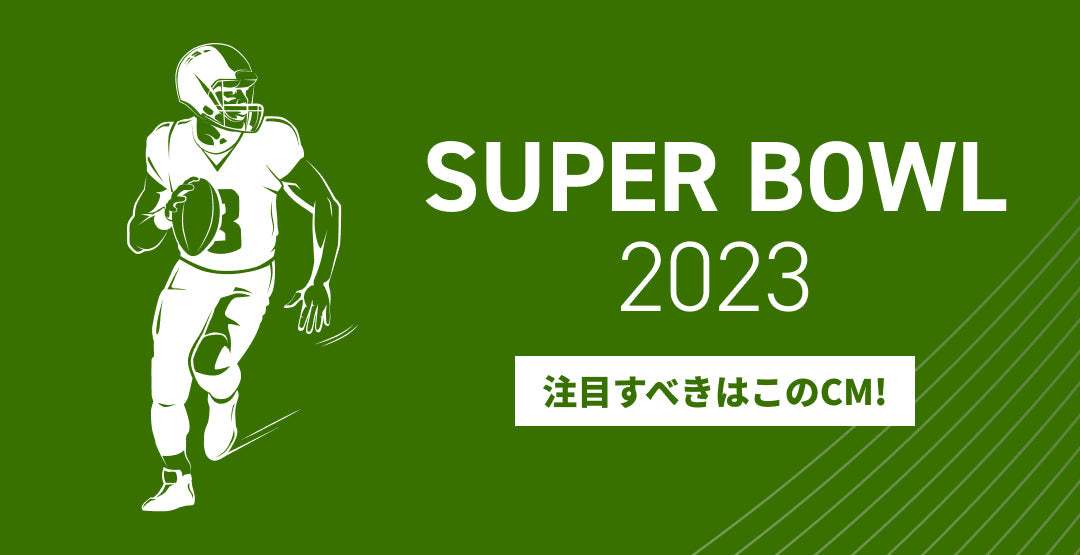 February 13 was a super bowl!
Kansas City Chief Suit, Philadelphia Eagles, and the Half Time Show by Rihanna were also a masterpiece.
The highlights of the Chief vs Eagles gameHere。
The half -time show by RihannaHere。
While the United States is wrapped in an enthusiastic whirlpool, there are content that is quiet and attractive.
It is a commercial.
The Super Bowl is broadcast live throughout the world in various media, but a commercial will be aired in between. American football often stops the game, and the number of commercials is quite large in sports.
In addition, since it is the No. 1 sports tournament in the United States called Super Bowl, each company is also focusing on commercials.
In this article, I will introduce what kind of commercials were aired in the Super Bowl CM ・ 2023 Super Bowl!
How much is the CM broadcast right?
Of course, you need to pay advertising expenses to play a commercial in a super bowl, can you imagine how much you are?

With a 30 -second commercialApproximately $ 6.5 million, At the rate as of February 2023800 million yen or moreIt is said that.
It's an unimaginable amount.
However, the number of viewers in the Super Bowl is in the United StatesMore than 100 million peopleIs watching.
The US population is about 330 million, so1/3 of the total populationThe number of people will see the commercial.
There is no other program in the United States that can earn such audience rating, so it will be very effective as an advertising destination.
Although it is $ 6.5 million, it actually costs a video to flow in 30 seconds, so it will be a huge spending for the publisher.
2022 CM -focused CM
One commercial with a super bowl last year was a hot topic.
That's here.
It is a commercial of a company in the cryptocurrency business called Coinbase.
As each company uses a huge budget to create high -quality images and hire celebrities, this commercial attracted attention.
It was very simple that the QR code only moved on the screen,With the effect of this commercial20 million people per minuteThe person visited the QR code and visited the site, and the site crashed.
This impact commercials had a great response even after the end of the Super Bowl.
For those who have been involved in advertising production, it would have been a scale image from the eyes.
3 Super Bowl's Featured CM 3 selections
From here on, we will introduce three selections of personal 2023 Super Bowl!
1. Rakuten
Japanese companies, Rakuten, also broadcast the Super Bowl CM.
movie"CrewlessIt is like a tribute, and the protagonist, Silverstone, is talking about Rakuten's cashback.
The video that the leading scient was made was irresistible for movie fans.
2. DUNKIN '
Here is a commercial for Dunkin 'Donuts, a national donut chain in the United States.
Actor Ben Affleck was dressed as a clerk and served customers on a drive -through.
This seems to have been held at the actual store.
And the biggest point of attention is that his wife Jennifer Lopez is visiting as a customer. It was a strategy to use the newlyweds at the same time to attract attention.
Ben Affleck proclaimed that he had always liked Dunkin 'Donuts since childhood, and seems to have become a memorable commercial for them.
3. Popcorners
It is a commercial for snacks every year, but this time, Popconers' commercials have been talked about before the broadcast. This commercial is a tribute to Breaking Bad, featuring Brian Cranston and Aaron Paul.
The commercial that reproduced the exchange in the super -famous drama may have been an impression on many viewers.
How was it?
Every year, a super bowl that produces various topics such as games, half -time shows, commercials.
Many commercials are officially listed on YouTube, so
Please look for your favorite commercials!
---