How to Do Offline Marketing ?? I heard about the Popup event that the US team actually did!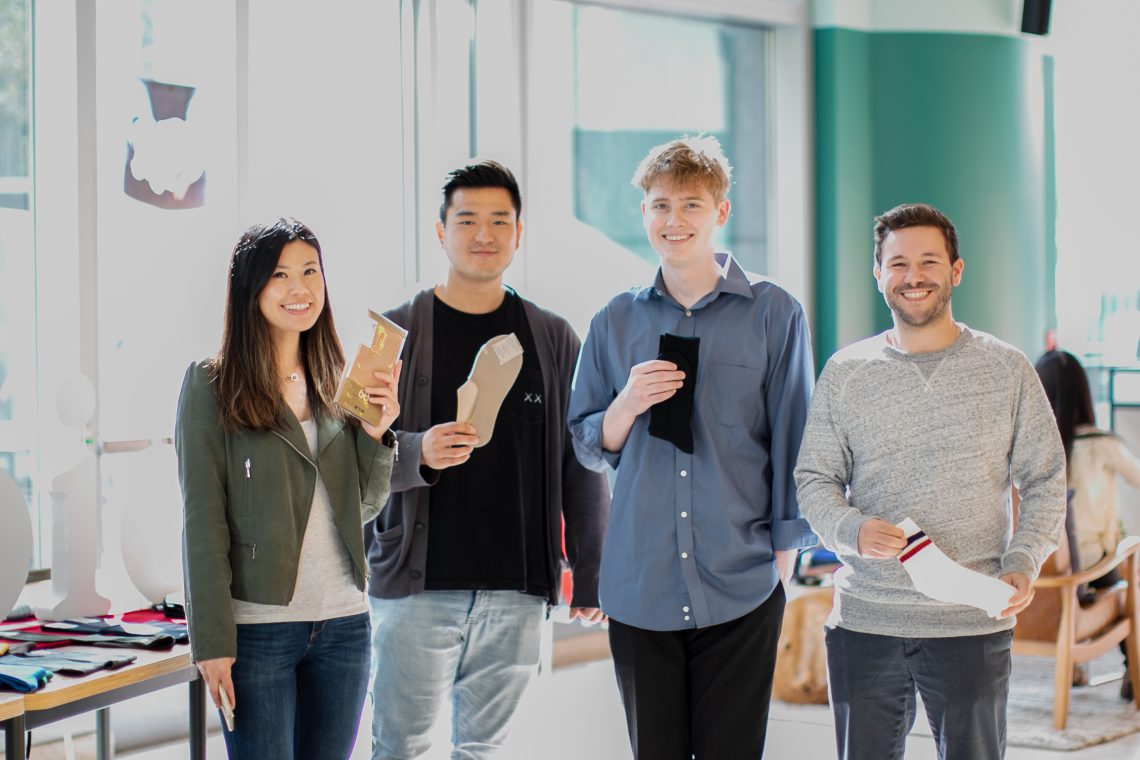 Hello!
Today's theme is"Offline Marketing"
I can approach from the web that can reach many people at once,Offline marketing that you can actually see, touch, and talk is a very impactful marketing method to get the brand recognize.
This time, I interviewed the POP UP event at LA that Go Ride recently held with a client -sama, and interviewed the US Marketing Team's actual preparation, difficulty, and the effects I felt.
1. POP UP Overview / Goal
First of all, please tell me the outline of POP UP.
At this event, we held a sock Give One Get One Campaign. Donate one pair of socks (even used)If you register for Tabio USA e -mail magazine, Tabio new socks can be given one pair on the spot! It is the content.
Get socks while volunteering! That is to say.
Did you recruit socks only on the day of the event?
Each venue is set up at each venue to have donation socks in for two weeks before and after the event.Did!
I see! It can also be announced and good!
What is the goal setting? ?
The goal of the event is to collect many email addresses and brand awarenessis. The idea is that people who have never knew Tabio know about the brand, and then reach and become a fan through the e -mail magazine.

Based on the results of the previous event, the goal is to collect 50 to 80 email addresses for one event.
2. Select a place
This time, we chose WEWORK as a venue. Why did you make it?
Our officeWeWORKThe main reason is to say, because there were many benefits to doing POP UP on Work!
merit
Since I am a WeWORK member, there is no place for the event
There are always various events, and many people are interested in new things and things
If one person likes me, I can call my colleague (can reach many people)
WeWork will also announce the event
It is big if there is no place to pay! The opening fee for events and malls is very expensive. Especially the United States is higher than Japan.
3. Preparation
How are you preparing by the day?
・ Communication with WEWORK staff
・ Decoration of BOX for socks collection (Printing the data received from the other party on a sticker with fedex)
・ Installation of BOX

Is mainly done.
It takes time to communicate with the staff. I have to take Approval, and I don't get a reply right away like Japan. 。
If you do everything in English yourself, you'll be messed up.
That's right lol
I negotiate to have the BOX left even after the event.
I also carried the box by car in advance and consulted with the staff.
4. Notification method
What did you do for the announcement?
This time it was held at Wework, so we asked you to announce the event for the WEWORK community.
The rest is the Instagram story, post, and email magazine announcement!
5. On the day!
Finally on the day!
The schedule and the belongings I actually use were like this.
---
schedule
9:00 Meeting / preparation
10:00-14:00 Event
14:00-15: 00 Cleaning up
Belongings
socks
Tablet (the other brought me)
Poster
decoration
Gum tape and double -sided tape
table
---
What I did on the day is the first product display. Popular products, such as devising them as beautiful as the shop, separating men's and ladies on one table (so that female customers are not crowded because they have a long time watching Socks). Red and display.
The members of Go Ride also participated in Tabio's socks, but also devised the socks so that customers could think "cute!" How do you coordinate your socks?
What kind of reaction did you respond to donating socks?
Where this was the hardest, ...
Actually, Tabio was holding Popup in NY with the same content before this event at LA. In NY, there are many people who are very interested in charity, so many people sympathize with the concept of "donating socks homeless", but in LA, it depends on the person, but it is negative to help homeless. It was true that there was, and at first I couldn't get the reaction I thought.
Oh I see! !
In the United States, where there are various races and ideas, it is a reaction. 。
In order to succeed in the event, we changed the cut slightly halfway.
I talked to the customer as an explanation of the brand, such as how high the quality of the Tabio brand, and then, and then, by the way, I was doing charity activities now.
andBy changing the way of communicating, more and more people are interested and participated in positive!
From the middle, some customers liked the product and purchased it, and it was good that I was able to make sales!
6. I was happy
What were you happy about?
Tabio USA is now only online stores. That's why we, who are helping them as agencies, are hard to talk to customers.

What I was able to talk to various people,I got to know the brand on the spot and bought it moreI was very happy at the time.

and,You can see the happy appearance of the actual customer who cannot be seen onlineI was very happy.
Certainly, there is a heat that can be conveyed by actually talking. There are some parts that have not been conveyed online alone.
7. Production
How many email addresses gathered?
The ultimately gathered email address for 200 people!
These 200 were all about 200 people who talked and became interested in the brand.
Surely, if you go home and talk to your family or recommend it to your friends, I think it's very valuable!
Yeah, I don't think there is a diffusion method that is more effective than word of mouth, so I think it's a very good result!
Of course, after the event, we send follow -e -mails. You must have become a fan! :)
8. It's important in offline marketing
Finally, please tell us what you think is important in offline marketing.
First of all, a nice setup that stops your eyes.
andTo connect the items to be sampled and the purpose of the event.

For example, during this time, an insurer was giving donuts, but most people got only donuts and did not listen to insurance.

By selecting and giving a product together while explaining the products and brands to be sampled, you can not only give them, but also the customers know about the brand.Sales talk is very important.
Certainly, I'm sampling something on the street, and even if I get it, I rarely go home and check the brand.
The rest is to be flexible!

For example, what works in NY like this does not always work with LA.It is important to change the correspondence with the whole team according to the situation.
If you only sell online, it tends to be a one -way communication, so you can use it for future online marketing measures by seeing and feeling the reactions of customers on site!
Thank you for talking!
---
How was it? I think there were many goodness unique to offline events.
Go Ride also offers Offline Marketing for US!
If you are interested in offline marketing such as POP UP event, please feel free to contact us.
For inquiriesHerefrom
---