What is Shopify Markets? I will explain in detail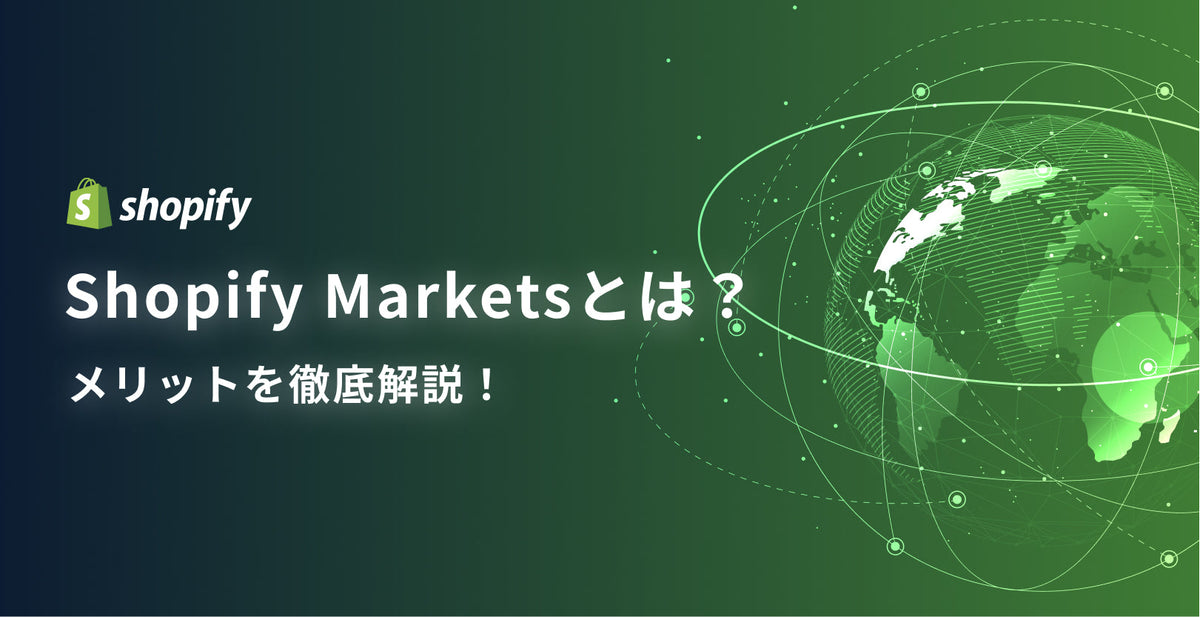 What is Shopify Markets?
Shopifymarkets is a comprehensive platform for building an online store and selling products. It is a function that can easily identify, create and manage international markets, and is used as a service required for cross -border ECs that establish their own brands and provide products and services to customers around the world.
4 selections of SHOPIFY MARKETS
Easy -to -understand interface
Shopify Markets offers a UI (user interface) that is easy to use for beginners.
You can easily create a nice online store using intuitive drag and drop tools, even if you don't have knowledge of coding or design. There are plenty of templates and themes, so you can choose the design that suits your brand.
Perfect security
In fact, Shopify Markets is a secure and reliable platform. Customer data such as credit card information and personal information is strictly protected and can be traded with confidence. In addition, 24 hours a day, 365 -day technical support is provided, and it will be quick and effectively responded if problems or questions arise.
In the operation of online stores, it is important to build customer trust. Therefore, Shopify Markets offers a secure payment gateway. It supports various payment options and guarantees safe handling of credit card information. You can also add SSL certificates to the store, enhancing data encryption and privacy protection.
In addition, there are many functions to improve customer experience. For example, there are cart -avoming (function to send reminder mail to customers who have abandoned carts), add product reviews, and live chat functions for customer support. By utilizing these functions, you can improve customer satisfaction and increase repeaters.
Providing diverse functions and useful tools
In addition to basic functions such as inventory management, order processing, shipping calculation, and customer management, you can also use marketing tools and SEO optimization functions. In addition, the SHOPIFY app store has a wide variety of additional functions and integrated tools, and by adding those apps, you can further enhance the functionality of the online store.
Excellent scalability
Shopify Markets is also excellent in expandability. You can customize and expand online stores according to the growing business needs. With the SHOPIFY API, you can link your own applications and systems to SHOPIFY. In addition, SHOPIFY MARKETS supports various currencies and languages ​​from all over the world, so it can also support international market.
Marketplace and sales channel
SHOPIFY users can exhibit their products and services in the marketplace in SHOPIFYMARKETS. This allows you to reach a new customer base and get a chance to increase sales.
Shopifymarkets also supports integration with many sales channels. It is easy to collaborate with major marketplases such as Amazon and EBAY, and sell on social media channels such as Facebook, Instagram, and Pinterest. This allows you to expand and expand your sales on various online platforms.
In addition to online stores, you can approach customers using various channels, such as store sales, pop -up shops, and social media platforms.
High degree of freedom of design
Shopify Markets also has a high degree of freedom in design. It is also possible to edit HTML and CSS to reflect your own brand image. By creating a custom theme and customization of existing themes, you can build a unique online store different from other stores.
SEO measures are perfect
It also focuses on SEO (search engine optimization). It has a standard editing function of important SEO elements, such as store titles, meta -tags, and URLs, and can be easily edited. It also has a high -speed reading speed and a mobile -friendly design, contributing to the high -ranking display on search engines.
Customer experience
Shopify Markets also provides many functions to improve customer experience. For example, there are cart -avoming (function to send reminder mail to customers who have abandoned carts), add product reviews, and live chat functions for customer support. By utilizing these functions, you can improve customer satisfaction and increase repeaters.
A wide variety of apps are available
Shopify Markets can be integrated with various apps. You can enhance business functionality by using various applications, such as email marketing, customer support, review management, accounting, delivery, and product research.
Order processing and inventory management
You can easily manage your order and track inventory. With customer's order, you can grasp the status of inventory in real time and process it efficiently.
In addition, it does not issue automated notifications and tracking numbers.It also has a function to make the order full -filling process smooth.
Community and resource
SHOPIFY MARKETS users can access vast communities and abundant resources. Participating in online forums and community events can provide advice and hints from other business owners and experts. In addition, learning materials such as SHOPIFY blogs and web seminars are enriched, supporting business growth.
Shopify Markets fee
We adopt a fee system according to the results.
There are a variety of options, from plans that can be used at affordable prices for the first entrepreneurs and small businesses to advanced functions for growing medium and large -scale businesses. In addition, since fees according to sales are also applied, the cost is incurred according to the results of the business.
Summary of features of SHOPIFY MARKETS
ease of use
High security
Providing diverse functions
High expandability
Shopify Markets offers a wealth of data and report functions to analyze results. You can grasp information such as sales analysis, customer trends, traffic sources, etc. in real time. This can help you make a strategic decision -making and an effective marketing campaign.
It is also possible to expand the store as it grows and support business development.
Overall, Shopify Markets is a comprehensive solution to support the success of online business. It supports a wide range of business needs, from beginners to small and medium -sized enterprises and major brands. It will be a tool for facilitating and managing high -quality online stores and maximizing business results.
---