Super easy! How to issue a receipt or delivery note in SHOPIFY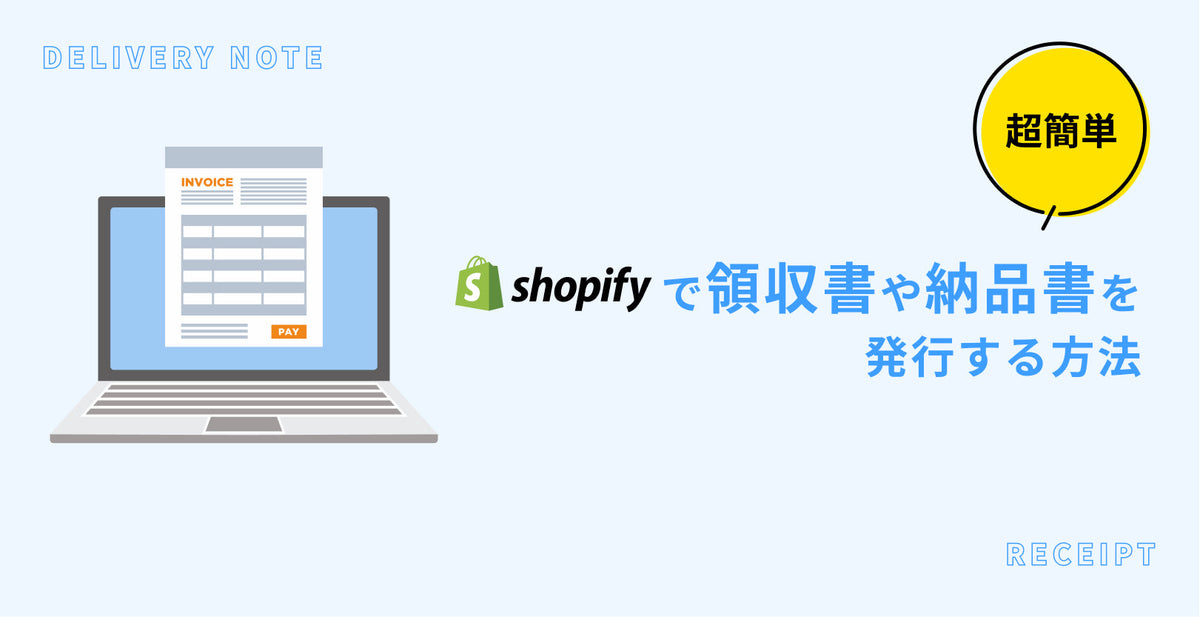 Credit card payments, which are common in ECs, are not required to issue a receipt, but some businesses may want to add issuance functions according to the needs of the user. Furthermore, if it is for BTOB, it would be convenient if you could issue delivery notes and invoices at Shopify.
These functions can be easily implemented in the app. In addition, it can be introduced with confidence because it is completely Japanese.
This time, I will explain this app and how to use it in detail.
Is it necessary to issue an EC operation in the first place?
The blind spot in EC management is the presence or absence of documents issued. The rules are different between actual stores and online shops, and I think many businesses are confused about what is needed. If not properly managed, you will lose your credit and have a major impact on the operation.
In the first place, let's see if you need a receipt, delivery note, and invoice.
1. receipt
---
When making a credit card payment on an EC site, there is no obligation to issue a receipt because there is no direct exchange between businesses and customers.

However, there are many cases where customers are required to receive a receipt. In that case, you must specify that the payment was made in a credit card payment.
2. delivery slip
---
A delivery note is a document given to a business partner when delivering a product, and there is no legal obligation. However, there are many cases where business owners and corporations are purchased.
3. invoice
---
There is no legal obligation to notify the payment to the delivered product. SHOPIFY allows you to send an email to notify you, but in many cases you are required to issue it like a delivery note.
Quick Order Printer Easy form output
To issue a receipt or invoice in SHOPIFYQuick Order Printer Easy form outputYou can easily implement it using the app. This app created by a Japanese company is completely Japanese among the SHOPIFY apps that are often overseas. It is safe to receive support in Japanese.
I will introduce what this app is, the three benefits and usage to introduce. I would be glad if you could refer to it before the introduction.
Merit ① Easy to issue on My Page and management screen
---
Users can easily download receipts and delivery documents from My Page with PDF. Since the business operator does not have to issue it, customer response can be omitted.
You can also set which data to be issued, or if you have not paid, you can easily set it.
On the management screen, you can issue receipts, delivery documents, and invoices according to the order. In addition, there is also a download function of CSV data for shipping slip output corresponding to Kuroneko Yamato B2 Cloud, Sagawa Express E Hiroden II, etc.
Advantages ② The output format is for Japan
---
Since Japanese companies are created, the format of the output data is also Japanese specification. In overseas -made apps, it is often unfamiliar even if it supports Japanese, and it is not unusual to get lost in the introduction.
Advantages ③ Customization is possible that suits our company
---
You can also change the information, layout, text and design. Since the information you want to say and add is different depending on the business operator, you can create original data with the editing function.
Let's implement it easily using the app
It is a nice thing for domestic businesses that the issuance of receipts, which are often required by customers, can be implemented in full Japanese in EC management.
In SHOPIFY, Japan's expansion is progressing steadily, and the number of Japanese -compatible apps is increasing, and it is expected to develop as a domestic platform that is easier to use.
On the other hand, there are many apps that are not supported by Japanese but have high functionality. Go Ride Co., Ltd. can build a SHOPIFY site in accordance with the needs of businesses based on staff who can handle English and the implementation experience of abundant apps. If you are a little worried about the construction of SHOPIFY, feel free toHerePlease contact us.

Until the end Thank you for reading!
---