[Car Life] Honda N Truck consolidated light car camping car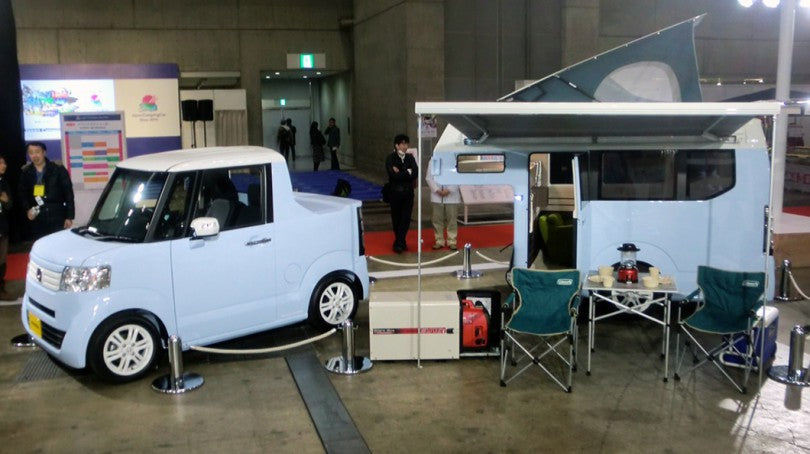 A mini car (N BOX) -based camping car that was also exhibited at the "Japan Camping Car Show 2015" held in Makuhari
Honda N Truck (concept car)
But it was a hot topic on the net. Access is still increasing as I introduced the other day
Suzuki Air Triser, which becomes a lounge during parking
It's a different form, but it's a very unique and interesting car. It seems to be very useful for staying in cars and camping. It seems that a towing license is required, but it can be used as a mobile office, and may it be popular with nomad workers? You can check the status of the assembly of the bed in the video. It seems that it can be used effectively as a space. Isn't the price quite affordable, unlike a common camper car?
○

A light pickup track that is customized by cut 50cm in length based on the N-TRUCK light passenger car "N-BOX". We propose new value obtained by dare to draw out space.

○

Camping trailer for N-Camp "N-TRUCK". Equipped with a storage loft bed that can be enough for two adults in the room. The interior is made of free arrangement, and you can enjoy your own specifications according to how you use it.

○

N-ONE Natural Concept This model is based on the N-ONE, a light passenger car that responds to the natural-oriented lives of young people living in the city.

○

Based on N-BOX +, a collaboration model with the casual outdoor brand "CHUMS", "N-BOX + CHUMS x Honda Access Collaboration model" by Honda Access and CHUMS※2In addition to this, three new "CHUMS x HONDA General -purpose product collaboration model", which is newly collaborated with general -purpose products such as generators※3Exhibited. We propose a rich lifestyle with HONDA products in outdoor leisure and home garden.

※2

Part of the mounting supplies include a collaboration accessories made by Honda Access released last year.

※3

Gaspower generator "Enepo EU9IGB", gas power tilly machine "Piana fv200", 2 horsepower 4 -stroke outsider "BF2D"
---